Hiking is a great and fun way for friends and family to go on an outing and enjoy nature. I have gone on many hikes with my family, and it began as early as I can remember. As a child, our family hikes were difficult. When I grew older and got into distance running, the hikes became easier and I wanted to go farther and faster. I wanted to climb a mountain from the bottom, not drive to the top. Recently, I had the opportunity to climb Mt. Borah with someone who's passion is mountaineering, or the sport of climbing up mountains and peaks.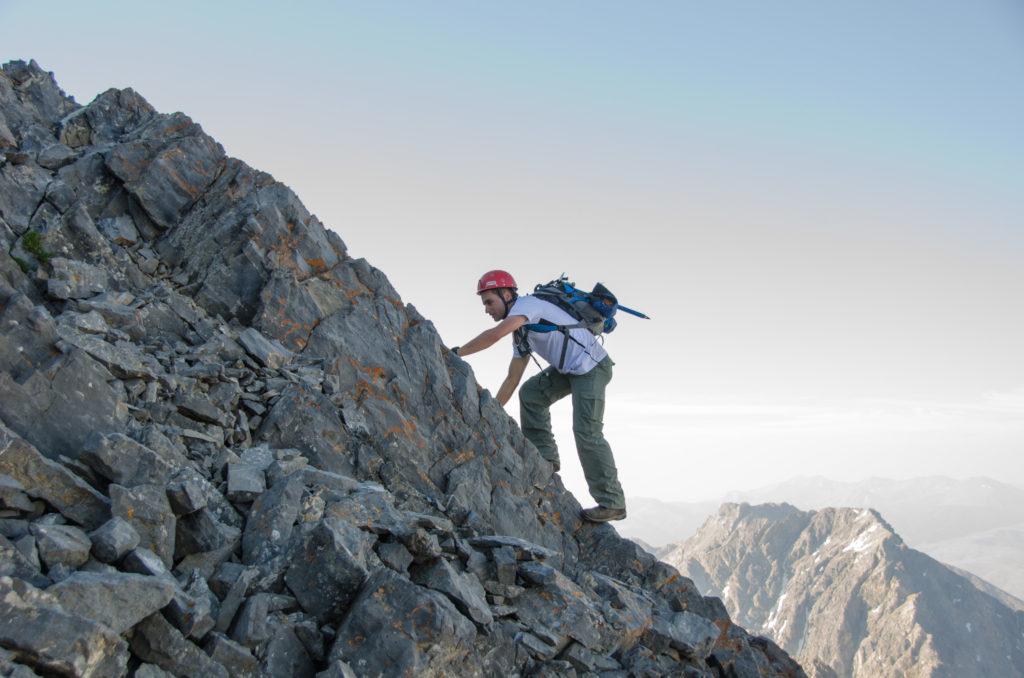 Sam Tobler, a student at Brigham Young University-Idaho, began mountaineering last year and really enjoyed it from the start. Tobler has a fear of heights and was unexperienced in climbing and endurance exercise. His only experience in hiking was with the Boy Scouts and with marching band. Both those activities helped keep him in moderate shape, but he only described himself then as being in average physical shape.
"Exercise was not a regular thing for me until I got into college," Tobler recalls. He mentioned how walking around campus would get his heart pumping, but it was not anything too strenuous. When he heard about a trip happening with the university Outdoor Activities group, he thought mountaineering would be a fun trip. Little did he know that he was getting into the difficult, yet exciting, sport of mountaineering.
Sam had a moderate interest in hiking and had done a few hikes with his brother on trails in Arkansas, so he thought this would be similar. On his university web page, students could sign up for trips with groups from Outdoor Activities at an inexpensive price. The trip Sam Tobler signed up for was climbing South and Middle Teton; two peaks, each with over a 1000 ft (305m) elevation gain and class 4 climbing.
"It was really difficult," Tobler describes his first mountaineering excursion. "We got to the top of South Teton and I was pretty tired…. When [the group] decided to go up the second ascent, I couldn't do it." So, he stayed behind with part of the group while the others continued on. "[Climbing South Teton] was a little nerve-racking … and I lacked the endurance, but I thought [mountaineering] was really great."
After that experience, Tobler worked on becoming better at climbing; getting to new heights and overcoming his fears. He has practiced rappelling and rock climbing just to improve his mountaineering skills. He was working towards his goals, by working to get in better physical shape. Now, after a year, Sam has improved his physical levels to be above average. He goes to mountain summits as often as he can, which is about every other week, and he has plans to continue to bigger and harder summits.
Climbing Mt. Borah with Sam Tobler was a fun day trip; a 12-mile hike with a 5200 ft (1600m) incline and breathtaking views everywhere. Sam knows the importance of carrying the necessities; some climbing gear, some extra layers, two liters of water, a packed lunch and a camera. The fewer things you carry, the easier the climb.
Mountaineering is a fun sport; it has a combination of hiking, rock climbing, ice climbing (sometimes) and rappelling. "This is not for the faint of heart." Sam Tobler told me before we went climbing together. Mountaineering is difficult, but just as Sam Tobler found it difficult at first; the experience is worth the effort.